Welcome, 2019! After a long time not posting, I return to make a post about JR Tokyo Wide Pass, my New Year's holiday savior!
It was started as an impromptu plan on countdown night. The first plan is to visit the infamous Shirakawago, but it's quite far from Tokyo, and the cheapest transportation option by night bus was already fully booked. So, my travel partner suggests traveling around Tokyo/Kanto area by using JR Tokyo Wide Pass. JR Tokyo Wide Pass is basically another traveling pass that issued by JR East Japan Railway Company who issued JR Pass that already well known around travelers. The difference is JR Tokyo Wide Pass eligible for all non-Japan passport, not only just for temporary visitor visa holders like others available JR Pass. It cost JPY 10,000 for three consecutive days trips and can be used for almost all trains under JR service in covered areas, including Shinkansen bullet train (some Shinkansen are excluded) and some others train routes operated by other companies.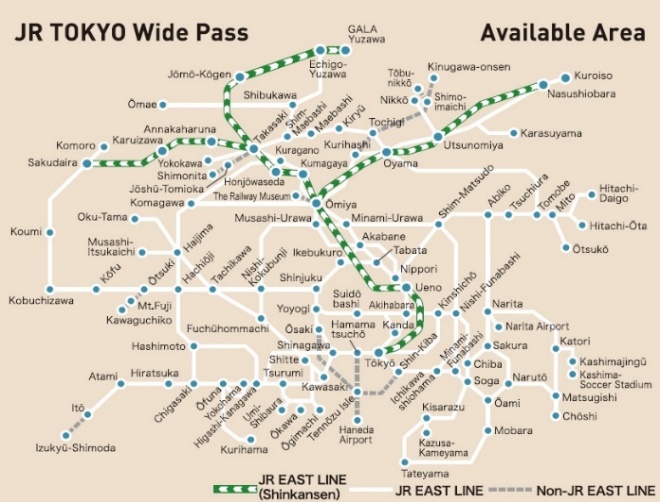 Confession: I almost never traveled to any place even though I already living in Japan for 2 years. The main reason is either I'm busy/tired with works or broke, but mostly both (Japan isn't cheap baby). So this pass came as my New Year's holiday saver when I already give up and ready to waste my off time by doing nothing for a whole week.

---
Long story short, here is our casual itineraries for 3 days trip, including our spending calculation if we don't use the pass for the trip.
Day 1 – Doai Station, Gunma

We started our trip from Ueno station. First, we bought our JR Wide Pass (you should show your passport when buying the pass) in JR EAST Travel Service Center in Ueno Station. Remember, if you using this pass (and any special pass) you need to show your ticket to station officer in JR ticket office beside ticket gate instead of inserting your ticket to the automatic ticket gate.
For our first day, we went to Doai station, the deepest station that still operated in Japan. This station is located in Minakami town, Gunma Prefecture, surrounded by ski resorts and used to be a station to a ski resort too back in the day. While the station itself still operating — probably due to the status for its reputation as the deepest station in Japan that bring visitors — Doai station now categorized as "mujin eki"「無人駅」a ka unmanned station, with empty pre-automatic ticket gates. It has two platforms, overground platform for Nagaoka to Takasaki route and underground platform (the one dubbed as the deepest train platform in Japan) for Takasaki to Nagaoka route.

This day's route is Ueno > Echigo-Yuzawa > Doai > Minakami > Gokan > Jomon Kogen > Tokyo.

We would spent about JPY 13, 800 on this trip if we didn't use pass (JPY 6,640 for shinkansen from Ueno to Echigo-Yuzawa, JPY 410 from Echigo-Yuzawa station to Doai station, JPY 410 from Doai station to Gokan station, JPY 230 for bus to Jomon-Kogen station and JPY 6,110 for Shinkansen from Jomon-Kogen to Tokyo station).
Day 2 – Lake Suwa & Narai-Juku, Nagano
On day 2, our trip is a bit different since Narai Juku, our main destination which located in Shiojiri city, Nagano Prefecture, is outside JR Tokyo Wide Pass coverage area. Our original plan was to take the limited express train up to Kobuchizawa — the last station under JR Tokyo Wide Pass's coverage area then changed to the local train to Shiojiri station and transferred to a local train to Kami-Suwa. Unfortunately (or fortunately?) the reserved limited express train that should bring us to our destination was delayed for more than 40 minutes and eventually ruin our itinerary, made us changed our plan by going straight to Shiojiri station with the same limited-express, adding JPY 1,950 as extending charge. Luckily, when we talked to the train's conductor about our plan to extend our ticket, he saw my pass and decided to gave us no additional charge, means we can use our pass until Shiojiri station and saving more time & money. We spent an hour in lake Suwa before heading to Narai-Juku, the station in Narai, an old post town in Edo period, currently under Shiojiri city administrative. Stations in this area except for big station like Shiojiri station usually unmanned and or doesn't support IC card payment, means you need to pay your fare in cash directly to the train machinist or on the ticket gate in your stop.

Our routes in day 2 are Shinjuku > Shiojiri > Kami Suwa > Shiojiri > Narai-Juku > Shiojiri > Shinjuku
On this day, we only spent JPY 3,590 for our trip ( JPY 820 from Shiojiri to Kami-Suwa and back to Shiojiri, JPY 410 for a local train from Shiojiri to Narai-Juku, JPY 410 from Narai-Juku to Shiojiri, JPY 1,950 for the limited-express train from Shiojiri to Kobuchizawa).

For comparison, we might spen around JPY 15, 840 if we didn't use JR Tokyo Pass on this trip. (JPY 7,100 for limited-express train from Shinjuku to Shiojiri, JPY 820 from Shiojiri to Kami-Suwa and back to Shiojiri*, JPY 410 for local train from Shiojiri to Narai-Juku, JPY 410 from Narai-Juku to Shiojiri, and another JPY 7,100 for the limited-express train from Shiojiri to Shinjuku.)
Day 3 – Annaka, Gunma
We decided to go laid-back on the last day, cause we already super tired, made me realized that age does matter lol. We took Shinkansen train from Tokyo station to Takasaki then heading to Yokokawa station in Annaka city by local train to catch special steam train D51 489 or SL Gunma Yokokawa Route, part of JR Joyful train. My travel partner also wants to visit Megane-bashi, an old brick bridge near the area, and after short-checking the website, there's a bus that going straight to Megane-bashi from Yokokawa station. Too bad we didn't check the website thoroughly because the bus is only operated in spring and autumn so we canceled our plan to Megane-bashi and ended up wandering around a small train museum called "Usui Pass Railway Heritage Park" or "Poppo Town" that had many old trains and locomotives.
We back to Takasaki by SL Gunma Yokokawa, remarks one of my ultimate dream for riding a steam locomotive train (even though the locomotive used for the return trip actually the electric one, the EL). We went straight to Tokyo — standing near the toilet on super packed Toki Shinkansen and get off in Ueno station to having dinner at Akihabara.
The 3rd day route are Tokyo > Takasaki > Yokokawa > Takasaki > Ueno > Akihabara

We might spend around JPY 11, 699 for regular trip without JR Tokyo Wide Pass (JPY 5,130 for Tokyo – Takasaki Shinkansen, JPY 496* for local train from Takasaki to Yokokawa, JPY 1,020 for SL Yokokawa from Yokokawa to Takasaki, JPY 4,920 for non-reserved Shinkansen train from Takasaki to Ueno station, and JPY 133* from Ueno to Akihabara by JR Yamanote line).

'*Price based on payment by IC Card, usually slightly cheaper than regular ticket.
---
After calculating all cost for our trips, I must say that this JR Tokyo Wide Pass is really worth every penny. We just spent around JPY 13,590 for our 3 days trips by using this pass compared to JPY 29,089 if we paid by regular tickets, means we saved more than half on transportation cost. This also makes me want to write about the comparison with JR Seishun 18 Kippu, another discounted pass from JR that only available in holiday seasons.
How about your New Year's holiday? did you spend your holiday by visiting your families, traveling, or do nothing? Tell me on the comment section below, and happy 2019!